Chase Hermanns is a 12 year old boy with a passion for ending global hunger. After traveling to Thailand to work at the orphanage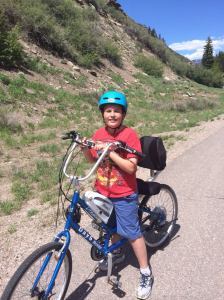 where the first Higher Quest Foundation fish farm was built, he was left with a strong desire to do something more to help end the hunger crisis. That is where the idea for "100 Miles for Hunger" started.
To build awareness for fish farming and the Higher Quest Foundation, Chase and his father Rick Hermanns will bike the nearly 100 miles from Aspen, Colorado to Avon, Colorado. The 100 mile journey will take place over two days.  They will start on July 22nd.
To support Chase and his "100 Miles for Hunger" you can follow the Higher Quest Foundation on social media and help spread the word about fish farming to end global hunger.
During their journey, they will share photos on social media using #100milesforhunger. Use this hashtag to follow along and join in the awareness raising conversation.
Hunger is an ongoing problem. While there is no easy solution that will solve hunger overnight, fish farming offers a way for people to have access to a steady source of protein in a sustainable way. The Higher Quest Foundation recently partnered with Gardner-Webb University to build a fish farm in Haiti.
Students came to our training center in Orangeburg, SC to learn how to build a fish farm, and then traveled to Haiti (along with foundation representative Theresa McAnnar) in May 2015 to begin work on the fish farm. We look forward to partnering with other schools, churches, and organization to build more farms.
By spreading the word about the Higher Quest Foundation and Chase's "100 Miles for Hunger" journey you are helping the Higher Quest Foundation end hunger through the skill of fish farming.