Each year, Trojan Labor, Acrux Staffing, and the Higher Quest Foundation host the American Hero Awards. The ceremony recognizes two American service men or women who have gone above the call of duty in service to their country.
Ultimate Hero Award Recipient: Pfc. Cody James Patterson
Pfc. Cody Patterson was born April 12, 1989, in Corvallis, Ore. After graduating from Philomath High School, he enlisted in the U.S. Army from his hometown of Philomath, Ore., in January 2012 and completed One Station Unit Training at Fort Benning as an infantryman.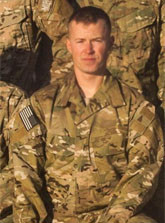 After graduating from the Basic Airborne Course there, he was assigned to the Ranger Assessment and Selection Program, also at Fort Benning. Patterson graduated from the Ranger Assessment and Selection Program and was then assigned to Company B, 3rd Bn., 75th Ranger Regiment in November 2012 and served as a rifleman. His military education includes the Basic Airborne Course and the Ranger Assessment and Selection Program.
Sadly, he was killed on his second deployment, first combat deployment.
His awards and decorations include:
The Parachutist Badge
The U.S. Army Expert Rifle Marksmanship Qualification Badge.
Patterson also has been awarded:
The National Defense Service Medal
Afghanistan Campaign Medal with Campaign Star
Global War on Terrorism Service Medal
Army Service Ribbon
Overseas Service Ribbon
Posthumous Certificate of Promotion
The Good Conduct Medal
The Combat Infantryman's Badge
Bronze Star Medal
Bronze Star Metal with "V" device
American Hero Award Recipient: Staff Sergeant Jeffery M. Dawson.
The 2017 American Hero Award recipient is Staff Sergeant Jeffrey Dawson. He graduated from Mt. Vernon High School in Fortville, Indiana.
On February 17th, 2015, Dawson was awarded the Distinguished Service Cross, the nation's second highest award for valor. He earned this award while deployed to Afghanistan with the 28th EOD Company (Airborne).
During a mission, a fleeing enemy insurgent detonated an explosive killing himself and the team's dog.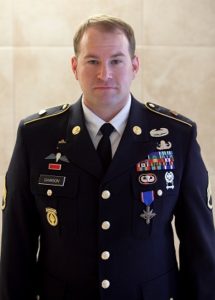 Soon after, Dawson realized that there were IED's surrounding him and his team.
According to the Army news website:"Despite being wounded by two separate explosions, Dawson halted the mission, disarmed the improvised explosive devices and aided in the evacuation of dead and wounded Soldiers. Navigating the chaotic situation in limited visibility for more than two hours, Dawson exposed himself to grave danger while locating three confirmed pressure plate IEDs and an additional six suspected devices, the award citation stated."
Dawson's other awards and recognition's include:
Combat Action Badge, Senior Explosive Ordnance Disposal Badge, Parachutists Badge,Distinguished Service Cross, Bronze Star Medal, Purple Heart, Joint Service Commendation Medal, Army Commendation Medal, Army Achievement Medal, Iraq Campaign Ribbon with one campaign star, Afghanistan Campaign Ribbon with 2 campaign stars, Valorous Unit Award, and Meritorious Unit Citation.
Staff Sergeant Jeffrey Dawson went above the call of duty and is truly deserving of the 2017 American Hero Award.
https://www.hqfoundation.org/wp-content/uploads/2019/03/hqfoundation-300.png
0
0
hqFoundationAdmin
https://www.hqfoundation.org/wp-content/uploads/2019/03/hqfoundation-300.png
hqFoundationAdmin
2019-03-20 23:35:31
2019-03-20 23:36:23
2017 American Hero Award Recipients