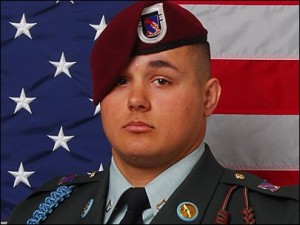 Spc. Joseph Caron was a native of Tacoma, Washington and participated in Air Force ROTC in high school as he always knew he wanted to serve his country in the armed forces. Spc. Caron was a member of Bravo Company, 2nd Battalion, 508th Parachute Infantry Regiment, 4th Brigade Combat Team out of Fort Bragg, NC. Spc. Caron was killed when his unit was attacked by insurgents using a roadside bomb while he was on foot patrol in the Arghandab River Valley in Afghanistan. Spc. Joseph Caron is missed by all who knew him.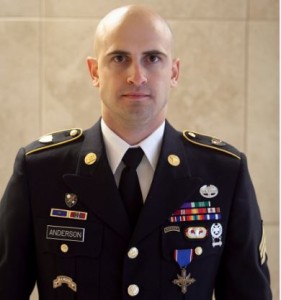 Sergeant Bryan Anderson is assigned to Headquarters Company, 3rd Battalion, 75th Ranger Regiment at Fort Benning, GA., as a combat medic. He was born in Wayne, Michigan.
Sgt. Anderson was a medic with a team of Army Rangers who were raiding an enemy compound in south Afghanistan. Suddenly, at least 10 IED's detonated within a matter of minutes. Four soldiers were mortally wounded and several others were catastrophically injured. Although he suffered injuries, Sgt. Anderson rushed to aid his comrades. He moved into areas that had not yet been cleared for IEDs and treated the wounded soldiers. While treating the soldiers, another blast knocked Sgt. Anderson over and mortally wounded Specialist Cody Patterson. He then continued to treat the wounded, including Cpl. Hargis, whom he kept alive for an hour and thirty seven minutes with two leg amputations in an area surrounded with explosives. "I never even thought twice about running to one of those patients,"Anderson told Army Times. "The guys are basically my family, so when one of them is hurt, and I'm their medic, it's my job to go make them better." In addition to being an American Hero Award recipient, Sgt. Anderson recently received the Army Distinguished Service Cross. The Distinguished Service Cross is the Army's second highest award after the Congressional Medal of Honor.
Both of these men are American Heroes. They have gone above and beyond the call of duty. We are incredibly grateful for the service all of our active duty military and veterans. Freedom is not free, it comes at a price, a price which is paid every day by our nation's military.
https://www.hqfoundation.org/wp-content/uploads/2019/03/hqfoundation-300.png
0
0
olivia
https://www.hqfoundation.org/wp-content/uploads/2019/03/hqfoundation-300.png
olivia
2016-05-14 14:45:20
2016-05-14 14:58:36
2015 Trojan Labor American Hero Recipients